Photo credit: Marshall Garlington
Submitting an insurance claim can be a confusing process, so we created this flow chart and FAQ to explain what you need to do if you're injured while participating in activities covered by your WFTDA Insurance policy. Please contact us at claims@wftda.com if you need assistance with your claim.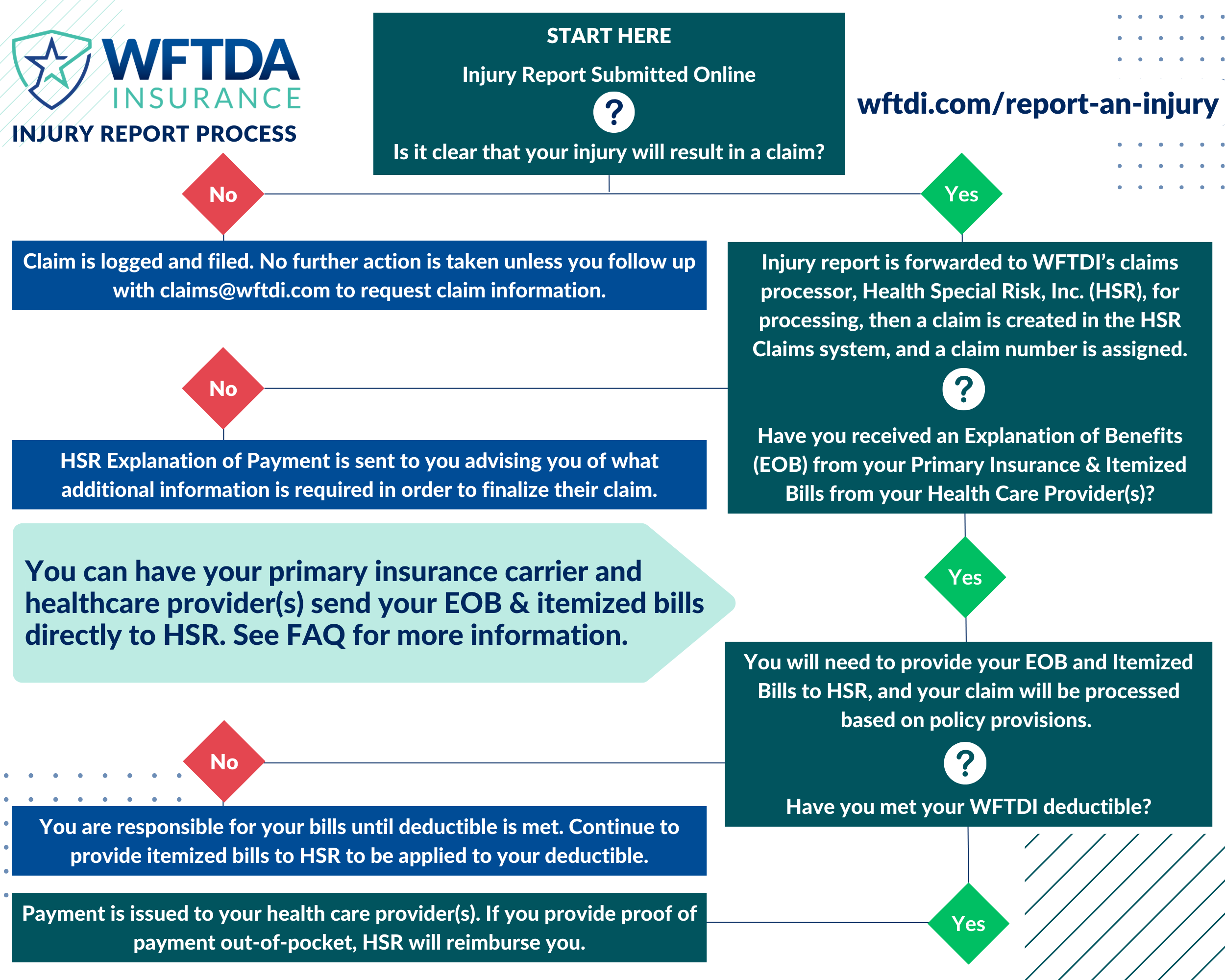 FAQ
What happens after my claim is filed?
AFTER the claim is opened by WFTDI's claims processor, Health Special Risk, Inc. (HSR), you will receive in the mail an Explanation of Benefits (EOB) from HSR advising that if you incurred medical expenses as a result of the covered injury, you will need to submit the following information to HSR. Please keep in mind that if you have other health insurance, you will need to file with them first.
Once the below information is received, we can continue the claim process:
Copy of all itemized bills. (HCFA or UB04 claim form – mention these form types to your medical provider and they will know what you are asking for.) Balance Due statements or ledgers are not acceptable.

Itemized bills must include the following information:

diagnosis codes
CPT procedure codes
date of service
billed amount
physician or facility Tax ID Number

Copy of the primary carrier EOB
IMPORTANT: your WFTDA Insurance policy has a $2500.00 deductible if you have primary insurance or a $7500.00 deductible if you have no primary insurance. All covered expenses will be applied to your deductible until met.
What is an Explanation of Benefits?
An explanation of benefits is a document that explains how your insurance processed the claim for the services you received.
It breaks down the information like this:
The services provided.
What the doctor or hospital charged (all charges).
What your primary insurance covered and did not cover.
What your insurance agreed to pay.
The amount the claimant must pay (amount you are responsible for).
Information the EOB Contains:
While all benefit statements look a little different, they will all contain the same basic types of information:
Account Summary: your name, address, member ID, claim number, and insurance group number.
Claim Details: services rendered, provider's name, location, date, and any applicable reference number or medical procedure codes.
The amounts charged by the facility or physician.
The amount your primary insurance has agreed to pay per their contract with the provider/facility.
Your financial responsibility.
When Will I Receive an Explanation of Benefits (EOB) From My Primary Insurance?
Each insurance company is different but, typically, you will receive an EOB within 30-60 days after receiving care, as long as your medical provider filed the claim with your primary insurance carrier.
Why Can't HSR Accept a Statement from My Provider Showing the Amount Owed (Balance Due Statement)?
A balance due statement does not include the necessary coding information to process the secondary insurance claim and also includes provider payment information, including their Tax Identification Number which is required to finalize the claim.
---
See our FAQ page for more answers to frequently asked questions.